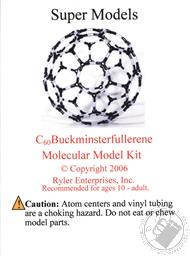 PREVIEW
Buckyball - C60 Buckminsterfullerene Molecular Model Kit (Model/ Molecular)
by Ryler Enterprises
Product Overview
Kit Contents:
62 trigonal planar carbon atom centers
92-1.25" PVC, clear bonds
Assembly instruction booklet
The C60 buckyball is 7.5" in diameter and is an excellent attention getter and instructional tool in any chemistry class. The sp2 bonding shows why buckyballs can conduct electricity.
About the Author(s)
Ryler Enterprises specializes in producing high qulity Chemistry and Biology molecular modeling kits.
Buy Now
Our Price: $22.00
You Save: Free Shipping w/ $45 min. purchase
Quantity:
LovingTruthBooks.com is owned by Zaev Holdings LLC

Product Details
Category: Science Kits
Format: Model (Molecular)
Publisher: Ryler Enterprises
Date Published: Dec 01, 2006
Language: English
SKU: LT-1963
Dimensions: 6.00 x 8.50 x 1.50 (in)
Weight: 4.70 oz