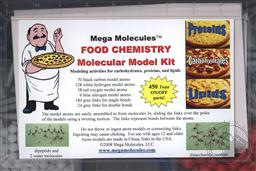 PREVIEW
Food Chemistry Molecular Model Kit (Model/ Molecular)
by Mega Molecules LLC
Product Overview
This set includes 450 pieces and student activity guides for carbohydrates, proteins, and lipids. Students can construct monosaccharides and manipulate the models to illustrate the process of dehydration synthesis, build amino acids and simulate protein synthesis, or assemble and compare saturated and unsaturated fats.

This Molecular Model Kit includes:




70 black carbon atoms


128 white hydrogen atoms


38 red oxygen atoms


6 ble nitrogen atoms


184 gray links for single bonds


24 longer gray links for double bonds


Storage case


The model atoms are easily assembled to form molecules by sliding the links over the poles of the models using a twisting motion. The links represent bonds between the atoms. Kit recommended for ages 12 and up. Includes student activity with Teacher's Key/ Answer Guide.
About the Author(s)
Buy Now
Our Price: $34.99
You Save: Free Shipping w/ $45 min. purchase
Quantity:
LovingTruthBooks.com is owned by Zaev Holdings LLC

Product Details
Category: Science & Technology
Format: Model (Molecular)
Publisher: Mega Molecules LLC
Date Published: Dec 01, 2008
Language: English
SKU: LT-2018
Dimensions: 10.75 x 7.25 x 1.75 (in)
Weight: 22.90 oz