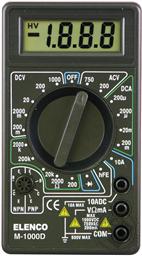 PREVIEW
Digital Multimeter Kit (Model M-1007K - Electronic Experiment Kit - Requires Soldering) (Soldering/ Soldering)
by Elenco Electronics
Product Overview
The most important factor in assembling your M-1007K Digital Multimeter Kit is good soldering techniques. Using the proper soldering iron is of prime importance. A small pencil type soldering iron of 25 - 40 watts is recommended. The tip of the iron must be kept clean at all times and well tinned.




Low Cost


3 1/2 digit LCD


18 Ranges


Transistor Test


Diode Test


Overload Protection


Pocket Size


A Note About the Solder:
For many years leaded solder was the most common type of solder used by the electronics industry, but it is now being replaced by lead-free solder for health reasons. This kit contains lead-free solder, which contains 99.3% tin, 0.7% copper, and has a rosin-flux core.
Lead-free solder is different from lead solder: It has a higher melting point (about 440OF, compared to about 360OF for lead solder), so you need higher temperature for the solder to flow properly. Recommended tip temperature is 700OF-800OF; higher temperatures improve solder flow but accelerate tip decay. An increase in soldering time may be required to achieve good results. Soldering iron tips wear out faster since lead-free solders are more corrosive and the higher soldering temperatures accelerate corrosion, so proper tip care is important. The solder joint finish will look slightly duller with lead-free solders.
Specifications


DC Volts: 200mV, 2V, 20V, 200V, 600V


AC Volts: 200V, 600V


Accuracy: DC 1/2%, AC 1.2%, Resolution 0.1mV


Input Impedance: 1MΩ


DC Current: 200µA, 2mA, 20mA, 200mA, 10A


Accuracy: ±1.2% rdg + 2 digits Resolution 0.1µA


Resistance: 200Ω, 2kΩ, 20kΩ, 200kΩ, 2MΩ


Accuracy: ±1.2% rdg + 2 digits Resolution 0.1Ω


Size: 5" (H) x 2 29/32" (W) x 1" (D)


Accessories: Test leads, Manual


About the Author(s)
Elenco was founded more than 30 years ago by 2 engineers. The core of Elenco is still their strong engineering and design skills. Their test equipment has been proven to be reliable as well as affordable. With Elenco, you learn electronics by doing electronics.