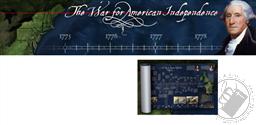 PREVIEW
The War for American Independence Timeline (Full Color Poster 13-3/4 x 39") (Book/ Paperback)
by Western Conservatory of the Arts and Sciences
Product Overview
In 1776 the American founding fathers signed a document that would change the world, setting an example to the world of law-abiding resistance to a tyrant who had broken covenant with his people.

This visually rich timeline, spanning the years surrounding the War for American Independence, gives a chronological look at the events that birthed the United States, from the military battles and political struggles, to influential inventions and discoveries, to popular literary works and ideologies, and the lives of key figures on both sides. See the events leading up to and following the declaration of a new nation in their historical context.
About the Author(s)
Western Conservatory of the Arts and Sciences
Buy Now
Our Price: $9.95
You Save:
+ Free Shipping w/ $45 min. purchase
Product is not currently available. Please check again soon.

Product Details
Category: History
Format: Book (Paperback)
Publisher: Western Conservatory of the Arts and Sciences
Date Published: Jun 01, 2012
Language: English
ISBN: 9781935877066
SKU: LT-2933
Dimensions: x x (in)