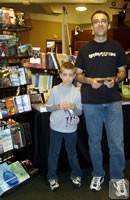 About Loving Truth Books & Gifts
Founded by Angela and Zoran Zaev, Loving Truth Books & Gifts is owned and operated by Zaev Holdings LLC.
Hand-selected, Biblically-based, Quality Books & Gifts
Loving Truth Books & Gifts hand selects every title in our inventory. We will not sell any product that we ourselves have not first previewed, read or tried. Our selection criteria is rigorous and we guarantee that our titles are not only family friendly, but also of great quality and soundness of thought that does not counter Christian principles.
How we select our materials
Since we do hand-select all of our titles, we provide personal reviews of every item in our inventory. Unless we think highly of a particular title, we will not sell it. What we look for in our resources:
Either the author and content of the materials offered hold to a strong Biblical worldview or do not significantly undermine Biblical Orthodoxy
Family friendly media selections will not include excessive foolishness (i.e. "silliness" or "goofiness" to supposedly capture the attention of a child).