1.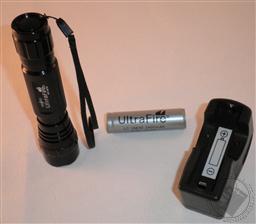 Black Five Mode UltraFire 180 Lumen CREE White LED Flashlight with 18650 Lithium-Ion Battery and Charger (Tactical Flashlight) (Flashlights & More - Tactical Flashlight, Jun 01, 2011) by UltraFire
The TrueFire 230 Lumen flashlight is compact (less than 6 inches in length), lightweight, and highly practical tool. And you get it for a fraction of the cost for similarly styled tactical flashlights. This flashlight includes a wrist strap, an ...

List Price: $34.95, Our Price: $27.89 , You Save: $7.06(20%) + Free Shipping w/ $45 min. purchase
2.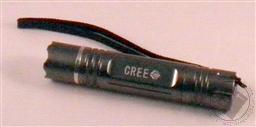 Metallic with Green Accent Single Mode TrustFire by UltraFire 230 Lumen CREE White LED Flashlight 18650 Lithium-Ion Battery and Charger (Tactical Flashilight with Glow-in-Dark Lense Ring and Tailcap) (Flashlights & More - Tactical Flashlight, Jun 01, 2011) by TrustFire
The TrueFire 230 Lumen flashlight is compact (less than 6 inches in length), lightweight, and highly practical tool. And you get it for a fraction of the cost for similarly styled tactical flashlights. This flashlight includes a wrist strap, an UltraFire ...

List Price: $34.95, Our Price: $27.89 , You Save: $7.06(20%) + Free Shipping w/ $45 min. purchase