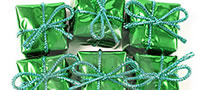 Loving Truth Books & Gifts December 2009 Newsletter
Merry Christmas and Happy New Year from Loving Truth Books & Gifts, a family business owned and operated by Zoran and Angela Zaev.
10 Days of Last Minute "Cyber" Shopping for delivery before Christmas 2009! Just $6.99 for Priority Shipping will ensure that your gift arrives before December 24, 2009.
Hundreds of new items have been added to the LovingTruthBooks.com website. Visit us online for great gift ideas.
Unique Musical Selections for Your Music Loving Gift Recipients

Sons of Korah is an Australian music group with limited availability in the United States and we are delighted to be one of their US Retail outlets. Sons of Korah draws the listener reverently to the Word of God with great talent. What a beautiful way to worship the Lord and meditate upon His law and precepts day and night. They use a variety of instruments and have a distinct style, using the Word of God, the Book of Psalms for the lyrics. With 5 CD's and a DVD recording of Live Concerts to choose from your gift recipients will be delighted by such a unique and lyrical gift. Each CD and the DVD are just $15 each.
Gifts for Family Movie Night

If you are looking for great Family Movie Night ideas and are tired of the typical fare dished out by Hollywood, you may be interested in some independent films like The Widow's Might, winner of the 2009 San Antonio Independent Christian Film Festival.
Synopsis:

John Moore and Cameron Cavillo are buddies—aspiring filmmakers with the dream of winning the prestigious American Viewfinder film festival.

When an acquaintance of Cameron's, an elderly Widow, faces losing her home to the outrageous property taxes in her area, the Moore family takes action, along with their friends, the Morton family. Through political smears, on-set mishaps, and a wild western ride, these families band together in a classic black hat/white hat tale of heroism!
Check our Website for more Family Movie Night Ideas
Books Make Great Gifts!
As always, books make great gifts for the thoughtful reader. We have a variety of items for you to choose from and offer a large selection of titles in the following categories:

With everything that's going on in the current economic climate, you may be interested to know that we carry a large selection of books about Free Market Economics, with alternative ideas as to how we ought to respond. For instance, we carry a very easy to read book called Biblical Economics by R.C. Sproul Jr. that is very relevant to today's headlines.
Educational Children's Gifts

In addition to the great 3-D Wooden Puzzles that we carry, we now carry a line of K'Nex Education and other K'Nex building sets. K'Nex make a great gift and you won't find the Education sets in the "big box" stores. K'Nex Education makes science and math learning fun! Each set includes a teacher/ parent's guide and mutiple building instructions. These sets are so poplular that inventory is starting to run low so hurry to get yours today!
Time is running out for last minute online shopping! Visit our website for some great ideas.
Loving Truth Books and Gifts has sent you this email advertisement because you have purchased from us or registered to receive our email updates. To be sure our mail reaches your inbox (not bulk or junk folders), please add Info@LovingTruthBooks.com to your address book. Loving Truth Books and Gifts will not sell or trade your email with any other parites. Also, we will not email you more than once per month.

If you would like to change your email address, or no longer wish to receive email from us please email your request to Info@LovingTruthBooks.com

© 2009 Loving Truth Books and Gifts. All Rights Reserved.